Online Survey Creator, with Style
PopSurvey is an easy tool to understand the satisfaction of your customers. Use our software to make quick surveys, perform market research or collect data through a beautiful form.
Sign Up Now
Create surveys and get valuable customer insights with PopSurvey
PopSurveys Work Everywhere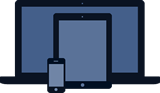 PopSurveys work on devices large and small. Your customers can take your surveys anywhere.
Create & Send Surveys

Easily create good-looking surveys that your customers will want to take.
Embed Your Surveys Anywhere

There's no need to send your customers a link – PopSurveys are embeddable so your customers can take them on your site.
Simple, Elegant Reports

Understand your customers and organize feedback with our easy-to-use reporting tools.
Join the companies using PopSurvey to get customer insights
Foursquare
FedEx
Whole Foods Market
Intuit
Standard Process
O2